When you're released from the hospital after a procedure or medical event, the first few weeks that follow can make or break your healing.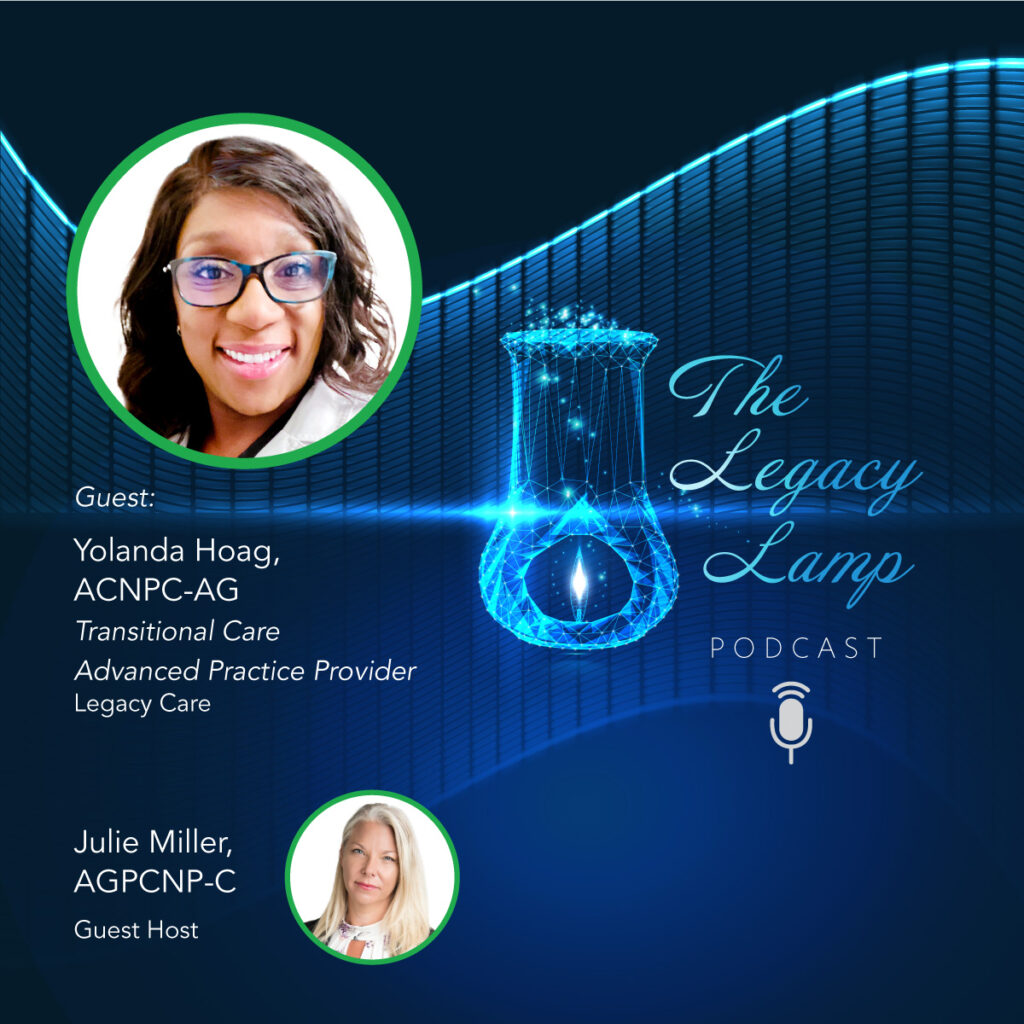 Legacy Care's new Transitional Care Management care model provides 1:1 support for patients at high risk for returning to the hospital because of an unforeseen complication. In this episode, Yolanda Hoag, Legacy Care's transitional care advanced practice provider, and Julie Miller, Legacy Care's Chief Compliance Officer, discuss how Legacy Care's new Transitional Care Model:
Leverages Predictive Analytics: blends technology, data analytics, artificial intelligence & evidence-based protocols customized for each patient
Crushes Care Gaps: bridging across the continuum of care to eliminate barriers that often cause complications & readmissions
Breaks Discharge Boomerang: reduces the need for a patient to return to the hospital because of an unforeseen complication after a procedure or medical event
Empowers Patients: teamwork helps spark patient engagement through 1:1 care
Shreds Cost: eliminates expensive patient readmission penalties and optimizes length of stay
Guest:
For more than a decade, Yolanda has delivered care across all aspects of the patient's health journey. Her clinical expertise consists of emergency, prenatal, family planning, ambulatory and post-acute care. Prior to healthcare, Yolanda served as the Operations Sergeant for a Brigade Commander consisting of six battalions with over 6,100 soldiers. She completed several oversea tours, where she worked as a clinical instructor of combat lifesaving and navigation. Yolanda received her Bachelor's of Science in Nursing from McKendree University in Illinois and a Master of Science in Acute Care Adult Gerontology from Walden University in Minnesota. She completed her Acute Care Nurse Practitioner fellowship through the California Emergency Physician residency program.
Moderator:
Julie Miller has delivered care to patients in healthcare systems and post-acute care facilities around the nation for more than 20 years. She has worked in critical intensive care units, specializing in cardiac surgical care and neurology. When Julie first joined Legacy Care, she treated patients in post-acute facilities and assisted living centers. She then transitioned into training and education, where she now leads the medical group's credentialing, onboarding and continuing education program. Julie earned a Bachelor's of science degree in nursing with honors from the University of Phoenix in Tampa. Julie then earned a Masters degree in Adult and Geriatric Nursing from the University of Cincinnati.