In this 30-minute episode, specialists cover the topic of mental health in the elderly population, including solutions to help. Legacy Care nurse practitioners Jennifer LeMasters-Stover, Curstina Jennings, and Lisa Kelleher discuss: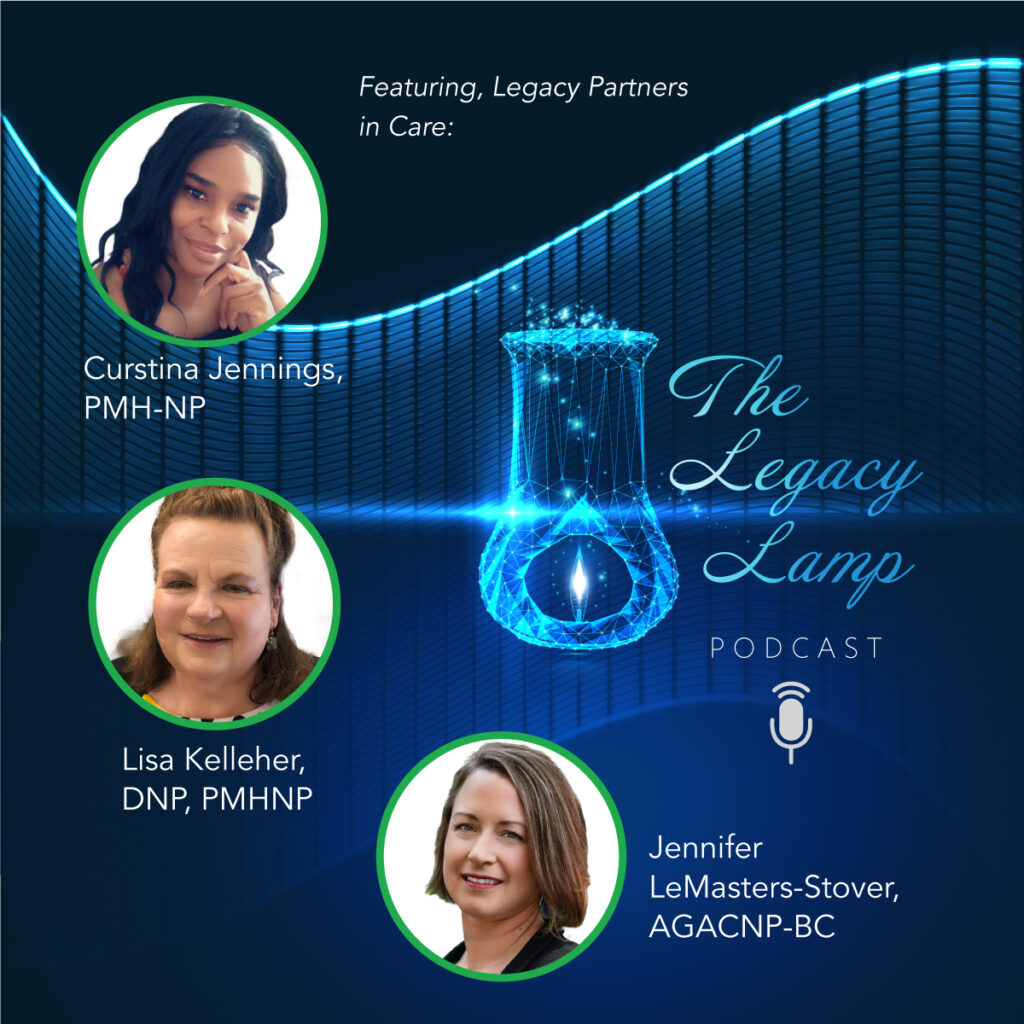 The most common mental health disorders in the elderly community, like insomnia, depression, substance abuse, grieving & more
How to detect mental health issues in older loved ones
Fear & stigma about mental health and the elderly
Solutions to integrate mental health into standard healthcare practice for the older population
How to help and support older loved ones
Guests:
Curstina Jennings, PMH-NP is a psychiatric nurse practitioner based in Richmond, Virginia. She provides support and counseling to patients in a nursing home as well as other care settings. Curstina received a Bachelor of Nursing from Norfolk State University. Following that, she earned her Masters degree from Walden University specializing in psychiatric mental health. Throughout her career, she has provided patient care in skilled nursing facilities and large healthcare systems. Prior to her career in medicine, Curstina served in the United States Airforce where she received several awards and honors.
Lisa Kelleher, DNP, PMHNP, specializes in psychiatric and mental health care. She provides care for patients in an assisted living community located in Williamsburg, Virginia, and in other settings. Dr. Keheller received her nursing degree from Northeastern University, a Bachelor's of Science in Community and Social Justice from Guilford College and a Masters of Science in Human Services from Northeastern University. In addition, she earned her Doctorate of Nursing Practice degree from Rush University with a specialization as a Psychiatric Mental Health Nurse.
Host:
Jennifer LeMasters-Stover, ACNP is a nurse practitioner who specializes in Adult Gerontology. She earned her Bachelor's of Science nursing degree from Virginia Commonwealth University where she graduated Magna Cum Laude. She received her Masters in nursing degree from Walden University. Her extensive background in healthcare includes intensive care, palliative care and hospice.