Richmond, Va – As a majority of nursing home residents have a psychiatric diagnosis, we're grateful for psychiatric mental health nurse practitioner Nicole Powers.
Nicole – who recently joined Legacy Care – is delivering much needed behavioral health services and support to skilled nursing home residents in Richmond, Va.
Nicole earned her Masters in Nursing from Virginia Commonwealth University, specializing as a Mental Health Psychiatric Nurse Practitioner. She earned her undergraduate degree in nursing from Eastern Michigan University. Throughout her 17 year career, Nicole has gained experience in large healthcare systems like Johnston Willis Hospital and in private practice, including remote counseling services.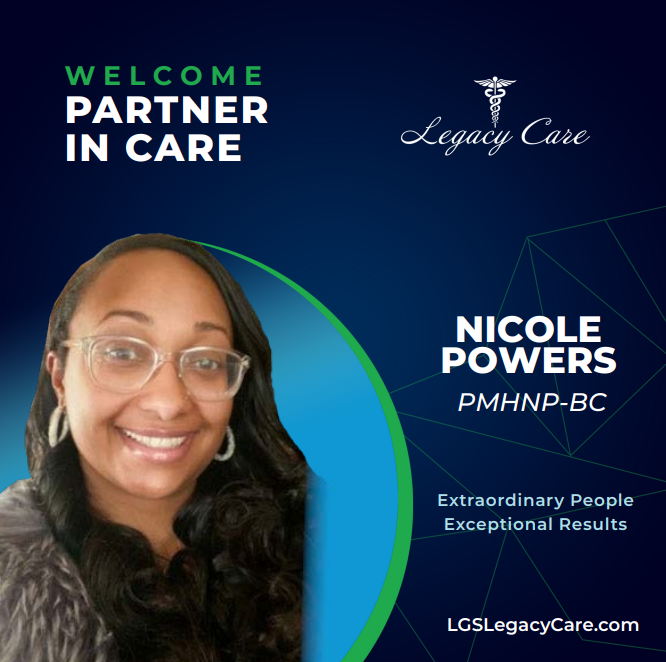 ++++++++++++++++++++++++++++++++++++++
Provider Resources from AMDA – The Society for Post-Acute and Long-Term Care Medicine:
Tips from the Pros: Basics of Psychiatric Management in the Nursing Home – http://bit.ly/3lJ8Kyy
Provides long-term care providers with skills to address common psychiatric issues like dementia and related behaviors, psychotropic prescribing safety & caring for those with major chronic psychiatric illnesses.
Audience: MDs – PAs – NPs
Legacy Care's medical group delivers patient care in healthcare systems, inpatient rehabilitation centers, post-acute care facilities and assisted living communities that are located across the country. We are leaders in transitional healthcare, delivering patient-centered solutions. Our compassionate physicians and advanced care practitioners are dedicated to positive patient outcomes.