The journey to assisted senior living can be clouded by myths, misperceptions and stigmas.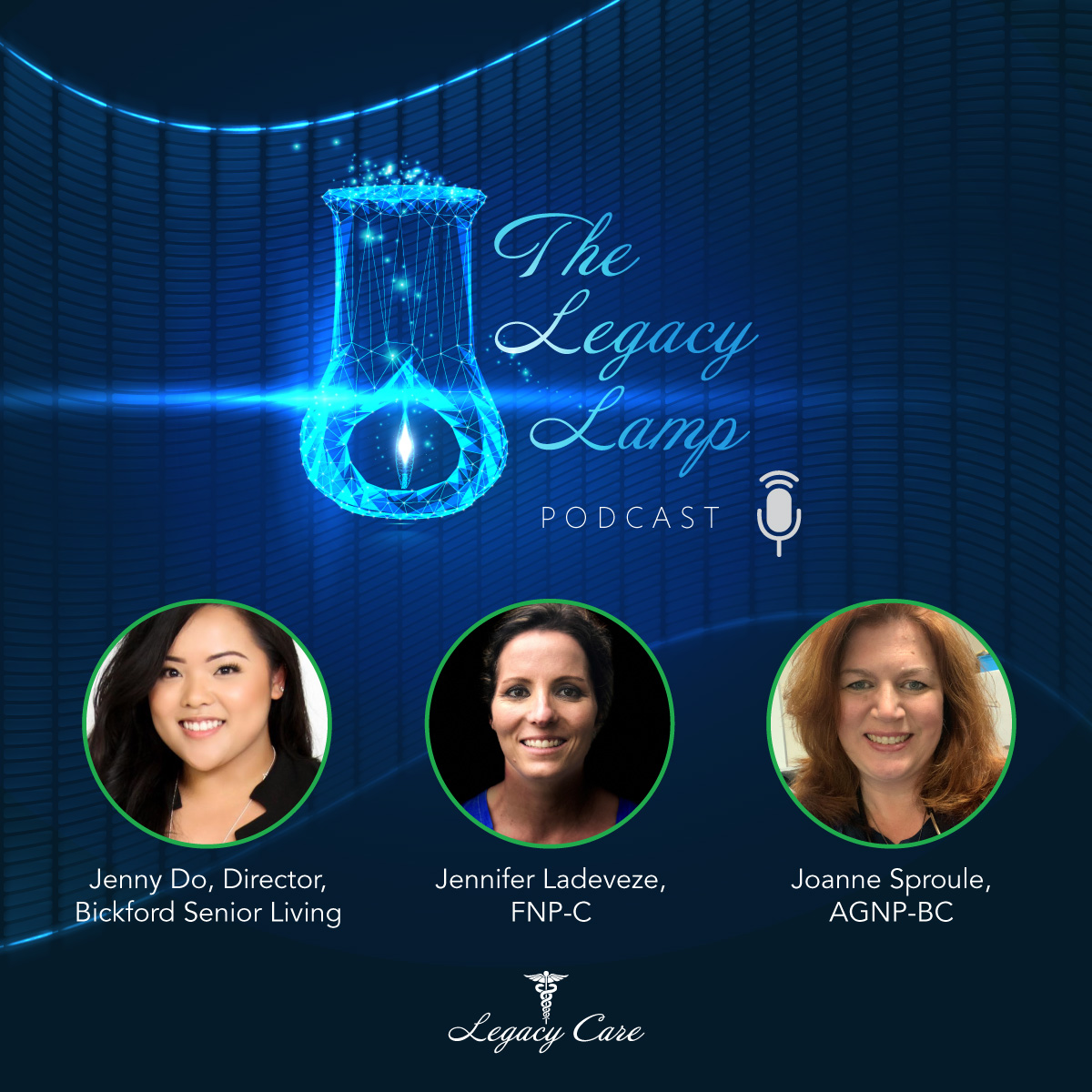 During this episode of the Legacy Lamp podcast, nurse practitioners Jennifer Ladeveze and Joanne Sproule and senior living administrator Jenny Do discuss: 
Joyful Living: Fellowship, safety, homecooked meals, low maintenance living & other benefits in assisted senior living communities 
Early Bird: Don't wait! See for yourself by touring early before high-pressure rush
Surprise Visits: How unscheduled drop-ins can be revealing
Option Review: Aging in place, independent living, assisted living & memory care
Early Detection: Burning meals, wandering, declining hygiene and other warning signs that additional support is needed
Passionate Advocates: First-hand accounts from those who choose careers in geriatrics
"We want to be their voice, helping older adults during a turning point in their lives," said Jenny Do, Executive Director, Bickford Senior Living. "It's all about exploring your options. Don't be afraid."
Guests:
Jenny Do, Executive Director, Bickford Senior Living – an advocate for seniors, Jenny is a leader who has devoted her career healthcare, working in senior living communities. She earned a Bachelor's of Science in Healthcare Administration from ECPI University in Virginia.
Jennifer Ladeveze, FNP-C – a family nurse practitioner who cares for patients in assisted living communities, Jennifer earned a Master of Science from Maryville University in Missouri. Her esteemed healthcare career includes working in cardiac intensive care units around the country.
Joanne Sproule, AGNP-BC – Joanne is a nurse practitioner who received her Master of Science in adult gerontology from South University in Georgia. Part of her stellar career path includes spending 18 years as a flight nurse in the U.S. Navy. Joanne cares for patients in several assisted living communities.